By Minco Staff
One of the advantages of working with us is that we excel in so many technologies suited for
different applications.
Case in point, our fast thermal cycling All-Polyimide (AP) heaters.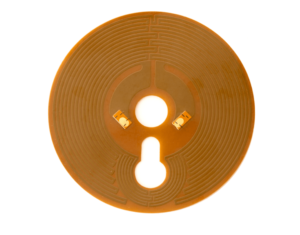 Created using an adhesiveless polyimide film along with a unique Minco manufacturing technique, AP heaters serve as Minco's high-performance alternative to standard polyimide heaters. Freed from the limitations brought by the adhesive, AP heaters feature superior maximum operating temperature of 500°F/260°C and power ratings to 100 W/in² (18.6 W/cm²) – twice the watt density of typical polyimide heaters. A thinner stackup of materials for AP allow the heaters to cool down quickly, which is critical to certain operations requiring
thermal cycling.
Let's explore some of the advantages of using Minco AP heaters:

Point-of-Care Devices: Smaller and Hotter Than Ever
One area where AP heaters shine is the field of handheld and point-of-care medical devices such as blood analyzers, glucose meters, and blood pressure meters. The portable form factors of these devices has revolutionized the way care is delivered, promoting efficiency and reducing the amount patients
have to be moved.
The challenge is that these devices require all components be as small as possible. Every generation of device has more tightly packed components and more restrictive electrical requirements. For this reason, medical device manufacturers rely on Minco's AP to deliver the thermal qualities in watt densities traditional thermofoil can't attain. For example, a 100W heater measuring 2"x5" has a watt density of 10W/in2, whereas a 300W Minco AP heater in a 1"x3" space is 300W. If the device's size keeps shrinking, watt density must keep up.
Thanks to AP's adhesiveless, low-mass construction, its elements can be etched to a finer pitch and higher resistance density than the competition's heaters. The result of this is the ability to make heaters
smaller than ever.
Cooldown: The Hidden AP Advantage
While AP heaters offer compelling advantages over typical heaters, one of the most notable may be its ability to cycle quickly, both heating up as well as rapidly cooling down. While a lot of heaters on the market offer rapid heat-up, these heaters often feature a higher mass and are more insulating – and the consequence of this is that they do not cool down very quickly.
Minco's AP heaters cycle considerably faster than the competition's high-performance heaters, thanks to the heaters low-mass construction. This means devices are able to cycle faster without overheating and failing.
AP heaters' fast cooldown offers customers a couple of key advantages: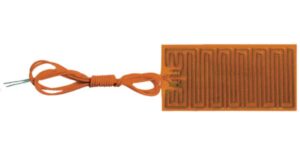 Able to perform more processes in quantifiably less time to help customers reach cost-per-test or throughput efficiency goals.
Accommodates certain technically challenging medical processes like DNA amplification where faster cycling is a technical requirement of the process.
Minco AP vs Competitors' High-Performance Heaters
Other companies sell all-polyimide heaters, but Minco's AP heaters offer distinct advantages over these competitors, particularly in the areas of cycle time and product life.
Minco engineers recently conducted a test comparing cycling time between AP heaters and a variety of competing polyimide-based heaters. Each heater was cycled five times from 25°C to 98.5°C, with each cycle timed, then all the results averaged out.
We found a significant cycle-time advantage for Minco AP heaters. An AP heater installed using Minco #16 PSA cycled 30% faster than a competitor's high-performance heater, 119 vs. 155 seconds for a complete cycle. The use of lower-density materials and Minco's advanced manufacturing techniques made the difference.
Minco AP heaters also last longer under high-temperature conditions. Minco's industry-leading lamination process allows our AP heaters to consistently reach 260C without danger of delamination. Competitors' all-polyimide heaters cannot withstand 260°C for a long period of time – the adhesive layer of the product becomes unstable and the heater de-laminates or loses its dielectric strength.
Beyond advantages in rapid cycling and high-temperature applications, AP heaters still offer the benefits of typical flexible film heaters on the market, including easy installation and custom temperature profiling to tailor thermal performance.
Making AP Work for You
The easiest way to get all-polyimide heaters is to buy them online; Minco offers a number of standard products in our online store, most of which are available for immediate shipment.
However, we recommend custom solutions for many projects. Building custom allows Minco engineers to design and manufacture each component specially for each customer, ensuring it works perfectly for that application.
At Minco, we're accustomed to working engineer-to-engineer (E2E), a collaboration process that allows our partners to leverage our engineering know-how early in the process. Not only can we customize the heating configuration, but we often discover efficiency and performance opportunities by adding flex connectors, sensors, and other components to the assembly.
Contact us to learn more about Minco All-Polyimide heaters or to discuss a custom project.