Minco remains open during the COVID-19 pandemic. Per CDC guidelines, we have taken steps to protect the health of our employees and ensure our critical functions remain operational for our customers. You can read our full statement, here.
Explore Your Next Career Opportunity with Minco
Helping our customers overcome complex design challenges requires careful attention to detail in everything we do. We pride ourselves on taking this same thoughtful approach with own employees.
At Minco, our leaders are now actively building and shaping a revitalized workplace defined by high urgency and energy, honesty and integrity, open and clear communication, and accountability of action.  We uphold a culture where every voice is heard in the pursuit of excellence, and respect is at the core of our interactions.  We embrace diversity of people, background and ideas and we promote an environment energized by continuous improvement, creative ideas and collaboration.
Join us to be part of a team where your contributions matter, your potential is recognized, and where positive energy propels us towards collective success.  Come thrive in an atmosphere where integrity, communication, accountability, respect and energy drive our shared commitment to excellence.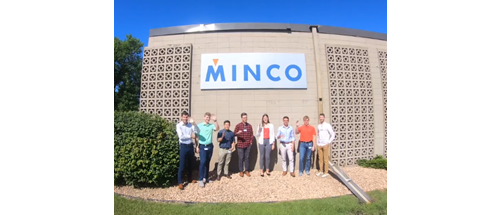 Minco takes the privacy of our employees very seriously. For details, please read our Pay Transparency statement.
COMPETITIVE COMPENSATION AND BONUS PROGRAMS
HEALTHCARE COVERAGE
AND FSA PLANS
RETIREMENT SAVINGS WITH
COMPANY MATCH
REWARD AND RECOGNITION PROGRAMS
EMPLOYEE ASSISTANCE
PROGRAM (EAP)
Minco offers equal employment opportunities to all based upon individual merit and without regard to race, color, religion, veteran status, national origin, disability, marital status, gender, age or any other protected characteristic.
Minco leadership is committed to creating a dynamic environment in which all employees have opportunities for success. In turn, we expect every Minco team member to take initiative, ask questions and search for better solutions. It's part of who we are as a company — and it's part of our core values: integrity, communication, accountability, respect and energy.
Take the Next Step in Your Career
Visit our job descriptions page to see a list of our current openings.