driving innovation
through collaboration
With progress often defined by disruptive, out-of-the-box designs, meaningful innovation requires the right tools to turn better-than-before ideas into reality.

These design challenges are what inspire Minco engineers — and they are the driving force behind our longstanding engineer-to-engineer (E2E) practice. Minco engineers bring best practices from hundreds of similar engagements worldwide to help our customers plan, design and integrate the best heater, sensor and flex circuit solutions for their programs.
Extend Your Engineering Expertise
Explore the 5 Key Steps in the Minco E2E Collaborative Process 
CONSULTATION
The earlier in the process the better: Engineers from your team and from Minco engage in a discussion of your program goals.
SIMULATION
The integrated solutions and discrete products we design undergo thorough testing using a variety of simulation tools.
DESIGN
Experienced Minco engineers apply new ideas and best practices from hundreds of engagements worldwide to create a winning design.
PROTOTYPING
We use a series of prototyping processes to make sure our final design fits your manufacturing processes and meets or exceeds performance expectations.
MANUFACTURING
After verifying part performance one final time, Minco uses statistically validated manufacturing processes to reduce product variation and speed production times.
DISCOVER THE POWER OF MEANINGFUL E2E COLLABORATION
Learn more about our approach to custom engineering services in our ebook on the power of integration, packed with E2E insights, case studies and integration ideas.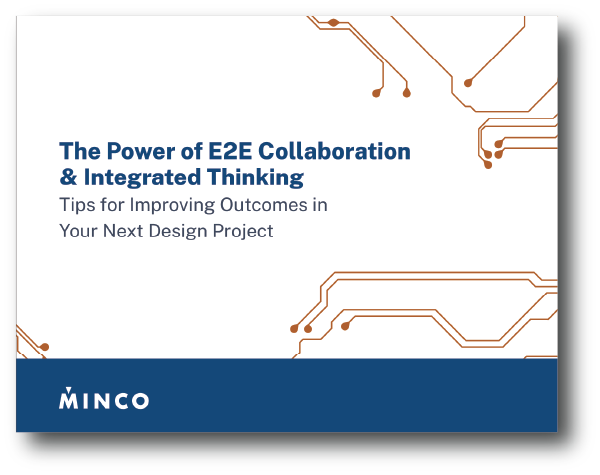 Our New Product Introduction (NPI)
Ready to take the next step and explore powerful design innovation? Minco engineers are ready. Our thermal, flex circuit and sensing experts can help your team find a better way — minimizing costs, while improving overall system performance.