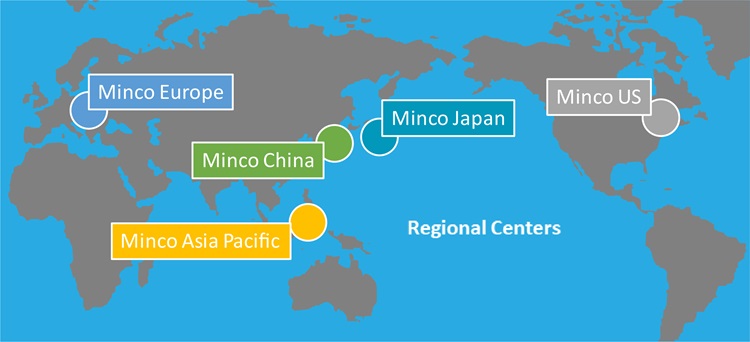 By Brian Lindgren
Minco is great because it is international focused.  This focus is important for providing great service to customers as well as providing interesting opportunities and rewarding challenges for its employees.
Since I first started working at Minco in 1996, the global presence and engineering support to customer has increased.  I have been fortunate to be a firsthand witness to the benefits it provides to our customers and to the employees at Minco.
I left the company in 2009 to move from the USA to the Philippines with my family. In 2012, when we moved to Japan, I reconnected with the company just as they were starting a direct sales office in Tokyo.  I had the exciting opportunity to be the first engineering hire for Minco in Japan.
In the two years I was in Japan, I was able to meet with a wide variety of customers around the country at short notice.  This allowed for easier communication and collaboration on complex engineering designs.  Utilizing my experience from my previous time at Minco, I was able to provide training to new hires to the Minco Japan Office and to Minco's local business partners.
I then went on to spend 4 years working as design engineer in the Washington D.C. area, where I was often able to take advantage of being closer to some customers in the region.  During this time, I spent more time working on a diverse range of projects with customers around the world and work with Minco's engineers in the company's offices in Singapore, China, and Europe.
Just recently I have moved to Estonia where I plan to add my experience to quality level of service that is already provided in the region.  Minco has had a manufacturing facility in France for many years and direct sales/engineering support from there as well.
Beside the obvious benefits to both Minco and our customers from direct communication on projects, there have often been times where Minco has been able to bring together engineers from our customer's various global offices and share important details about projects that may have been otherwise went uncommunicated.  As customer projects move from design in one location to manufacturing in another, Minco can provide local support on both ends.
The benefits of Minco's international focus are a closer understanding of our customer's needs both in initial design and as a product moves into production.  Better serving our customers allows Minco to thrive in a way that provides opportunities for employees to challenge themselves and grow along with Minco and our customers.
Contact Minco to learn how our international focus can be put to work for you.