In applications where uniform heating is a priority, mica heaters provide an efficient, cost-effective solution. They're an excellent option for custom-designed heaters that run toward a given temperature limit without sacrificing long-lasting quality and extended product life. Here's what you need to know about mica heaters, including ideal use cases as well as the advantages and drawbacks of this heating method.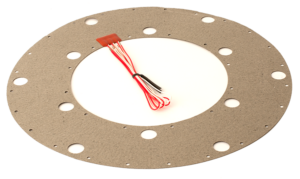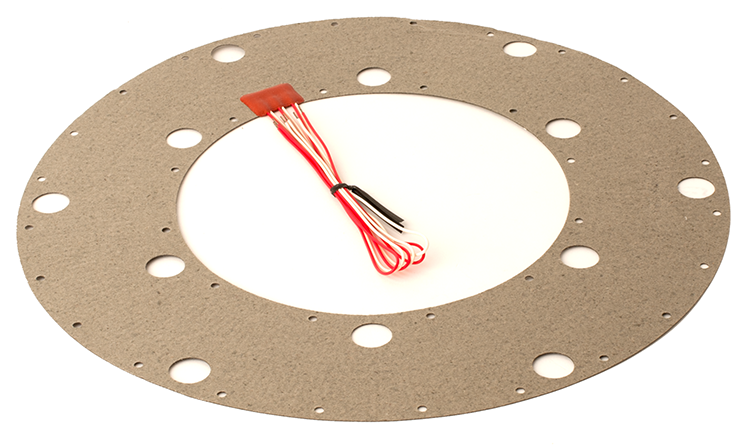 Why mica?
Mica is a silicate mineral often used in electronics and other electric and heating applications. Rather than one distinct mineral, mica is the name used for a group of minerals that can have different chemistry depending on the other atoms within its atomic structure, like aluminum, magnesium, calcium, iron, and others. Mica's mineral structure gives it a high electrical resistance along with resistance to light and moisture, making it a great insulator in industrial applications.
Mica helps heating elements get hot quickly, heat evenly, and cool quickly, which is why mica is often used in consumer electronics like kitchen toasters and space heaters as the heat-resistant material that supports heating elements. In mica industrial heaters, an etched foil element is sandwiched between layers of mica. Because mica heaters can reach temperatures beyond what adhesives are spec'd for, the heater is installed to a heat sink using clamps, which also allow it to distribute heat more evenly.
Our design and manufacturing process can even tailor the heating profile of a mica heater to make one part of the heater hotter than another. We do that by varying the width of the etched element. This is a standard capability of etched foil heaters, and Minco Mica Thermofoil™ heaters can be customized the same way.
How are mica heaters used?
The features of mica heaters make them versatile across many different industrial applications. Since they allow you to put heat where you want it while staying within a uniform temperature, they're ideal for…
Semiconductor processing
Packaging, strapping, and sealing equipment
DNA thermocycling
Food service appliances
Supplemental heat for plastics and rubber molding
To give you an idea of the versatility of mica heaters, one Minco customer uses Minco Mica Thermofoil heaters to fuse PVC pipes. It's a highly exacting process that requires quick, consistent application of heat to two pipe surfaces at once. Mica is a great fit for this unique use case because it allows the user to quickly apply even, consistent heat across a large area (i.e., the diameter of the pipe's mouth) that wouldn't be possible with other heater types.
Advantages and disadvantages of mica heaters
Mica heaters have a few distinct advantages over other heater types. For one, they're excellent conductors of heat, and clamping enables them to distribute it uniformly in many applications. For example, Minco Mica Thermofoil— heaters provide a broad temperature range of -150°C to 600°C (-238°F to 1112°F) and a high watt density (up to 110 W/in²) for faster processing times than conventional mica heaters. Also, while they're often supplied flat, mica heaters can be pre-formed to curves (like inside pipes or other non-standard surfaces).
Want to know more about mica heater design?
Download the Minco Thermal Solutions Design Guide here.
Handling can be an issue with mica heaters: mica is a formed mineral sheet, which can be damaged more easily. The porous nature of mica makes it a challenge in high vacuum applications. Arguably the biggest downside to mica heaters is that they're installed using clamps rather than adhesive or tape. Clamping enables one of the biggest benefits of mica heaters – but it also means they either have to be custom designed to account for clamping or the user is left to devise a means of clamping in the application. This customization can add cost to development, but it can pay off with lower assembly costs in production.
Comparing mica heaters to other options
If you're in the market for industrial heaters, you may wonder what the main differences are between mica and other types of heaters. Here's a basic rundown of their advantages and disadvantages in key areas.
Mica heaters vs. ceramic heaters
Lifecycle: Ceramic heaters generally have a longer life expectancy than mica heaters (but this depends on the application and average heat range utilized).
Temperatures: Mica heaters have a temperature range up to 600°C (1112°F). Ceramic heaters operate in temperatures up to about 760°C (1400°F), giving ceramic heaters a slight advantage over mica in industrial applications.
Customizability: Mica heaters are much more customizable than ceramic heaters. That's because mica sheets can be cut to almost any size or shape you need, making it a great material for unique or awkward applications.
Watt density: Clamping layers of mica provides better heat transfer to the surface and a more uniform distribution. The watt density profile can be custom designed to put heat where it is needed on the heating surface. 
Mica heaters vs. cartridge heaters 
Advantages of cartridge heaters:
More standard sizes and power options available than mica heaters.
Can be easy to install and replace when damaged.
Generally lower cost than mica (but not always).
Simpler to create a vacuum or fluid seal around the heating element to lead wire exit.
Disadvantages of cartridge heaters:
Element temperature runs higher than flexible mica Thermofoil heaters, which can lead to failures in the heating element.
Fit to hole can change over time in cartridge heater, which can lead to changes in heating performance and failure.
Cartridge heaters require a heatsink that is thick enough to have a hole drilled into it.
Cartridge heaters require a thicker heatsink to allow the heat to spread out from the individual heatsink points of the cartridges.
Advantages of mica Thermofoil heaters:
Mica heaters are more customizable than cartridge heaters.
Mica heaters perform better in highly customized sizes, shapes and power options.
Mica heaters make it easier to achieve higher heating surface watt densities.
Mica doesn't need insertion holes drilled into it, which is better for thinner heatsinks.
Disadvantages of mica Thermofoil heaters:
Mica heaters require a clamping plate.
Customization means they can be more expensive for simpler heating applications.
Outgassing of the heater may be required depending on the end use.
The wire exit area from the heater can be more fragile. 
How Minco Thermofoil™ Mica heaters excel
The additional investment in mica heaters means you need to be able to control as many factors of design and manufacturing as possible to increase efficiency and decrease costs. Mica heaters from Minco offer all the benefits of mica heaters along with our custom design capabilities to ensure you get exactly what you need for your application.
Additionally, we conduct thermal modeling to ensure your mica heaters meet your temperature uniformity goals. Thermal modeling can increase the efficiency of production and cut out the time and money you'd normally spend on second and third iterations of your custom-designed heater.
Interested in learning more about using mica heaters in your application?
Find more information on Minco Mica Thermofoil— heaters here.