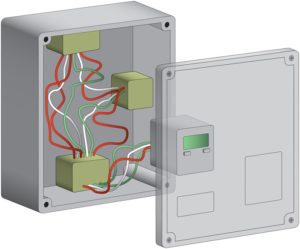 By John Baichtal
In today's competitive world of electronic manufacturing, each generation of product must be lighter and more compact than its predecessor. And not just consumer electronics – industrial, medical, and defense OEMs continually look to shave off inches and pounds. Replacing a traditional wire harness with a flexible printed circuit represents one of the best ways to reduce the size and weight of an assembly.
Wire Harnesses vs. Flex
Put simply, flex circuits have all the advantages and none of the disadvantages of wire harnesses. To begin with, the most obvious advantage of flex circuits, their thinness and flexibility, allows the circuits to hug the side of an enclosure and flex around curves and corners. By contrast, a wire harness consists of a bundle of discrete wires with a much lower wiring density. It takes up more space and adds more weight than a flex circuit and makes it hard for customers to meet their dimensional and weight goals.
Flex circuits have a much lower mass than wire bundles, not only reducing overall weight but also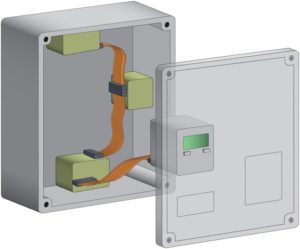 helping these circuits resist shock and vibration. The other side of weight is fragility; High-mass wiring bundles do not respond well to being crammed into a narrow space, being subjected to repeated flexing, or even everyday shock and vibration. These conditions expose harnesses to hard-to-diagnose failures in solder joints and other connection points within the bundle. The bundle of wire can also move unpredictably and with unintended consequences. For instance, one customer of Minco's found its wiring harness occasionally blocking optical sensors as the wires moved around inside the enclosure.
Installation costs also favor the flex circuit. Wire harnesses suffer from time-consuming and error-prone installation, which adds to the product's bottom line. A flex circuit's installation is faster and less subject for error because it's easier to snap into place a single high-density connector than a bunch of discrete wires. Flex is also repeatable, with every circuit produced looking and behaving exactly like the others, further streamlining assembly.
Start Building Your Flex Circuit Today
Minco has become the go-to flex supplier for many electronics OEMs. We design and manufacture all products in-house and feature the widest range of insulation, foil, and termination options in the business. Minco is NADCAP accredited and carries the AS9100-D, IPC-6013 Class I/II/III, and IPC J-STD certifications, and our CAD designers are IPC CID certified.
While Minco's customers tout our flex circuit design abilities, what sets the company apart is our ability to embed sensors, flexible heaters, integrated circuits, and other components in the flex circuit. We call this synergy Integrated Solutions, and it allows us to leverage all our product lines for our customers' benefit. By installing these components in a Minco-manufactured flex circuit, it simplifies installation, reduces error rates, and saves our customers a lot of money.
Interested in building a flex circuit with Minco? Consult the following resources: