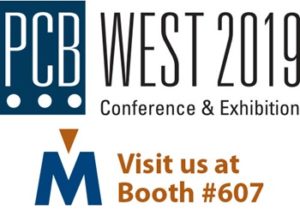 Minneapolis, July 2019—Minco, Products Inc., a worldwide provider of flex circuits, temperature sensors, heaters, and control systems, announces their attendance at the PCB West Conference and Exhibition this fall. With over 2,000 attendees and 100 exhibitors, it's the largest conference for PCB design in the Silicon Valley area. The tradeshow will take place from September 9-12 and is located at the Santa Clara Convention Center.
For 28 years, PCB West has been catering to engineers, designers, fabricators, and assemblers. The expo is designed for attendees to connect, learn, and explore by networking with peers and partaking in educational opportunities.
Visit Minco in Booth #607 to learn what makes the company the favored flex supplier of countless OEMs in industries where component failure impacts human lives, such as aerospace, defense, and healthcare. Our customers appreciate Minco's expertise in delivering high-temperature circuits, our robust New Product Introduction process, and our ability to integrate surface mount components, heaters, high-density interconnects, and antenna coils in our circuits.
About Minco – Minco Products, Inc., delivers comprehensive engineered solutions for Medical, Defense, Aerospace, Power Generation, and other high-reliability applications. Minco couples advanced product technologies, expert design and engineering capabilities, and a clear understanding of customer requirements to deliver unmatched quality, reliability, and performance in a variety of applications all around the world. For more information, visit www.minco.com.