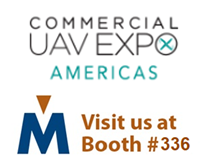 Minneapolis, October 2019—Minco Products, Inc., a global provider of thermal solutions, flex circuits, and temperature sensing and control solutions,will be exhibiting at the 2019 Commercial UAV Expo Americas  October 28-30, in Las Vegas.
The Commercial UAV Expo Americas is for anyone involved in capturing, process and utilizing remotely sensed drone data. The show focuses exclusively on a finite number of industries, making it the most effective and efficient vehicle for owners and operators in those industries to access the most relevant education, contacts and best-in-class UAS technology.
Visit Minco booth #336 to where we will be talking about aerospace solutions like the company's line of SmartHeat SLT™ heaters which offer a convenient alternative to traditional heating and temperature control devices in Aerospace and Defense applications, providing self-limiting control at prescribed temperatures as well as self-tuning capability in dynamic environments.
This year's Commercial UAV Expo will be held at the Westgate Resort and Casino. Approaching its fifth edition, Commercial UAV Expo Americas is firmly established as the place for commercial drone professionals to gather for the latest education, networking and to qualify and compare the newest UAS solutions.
About Minco—Minco delivers comprehensive engineered solutions for oil and gas, power generation, aerospace, medical, defense, and other high-reliability applications. The company couples advanced product technologies, expert design and engineering services, and a clear understanding of customer requirements to provide unmatched quality, reliability and performance in thousands of applications worldwide. Minco has more than 40 years' experience performing thermal simulation and lab testing in industries and applications where reliability and safety is critical. For more information visit www.minco.com.