By John Baichtal
Minco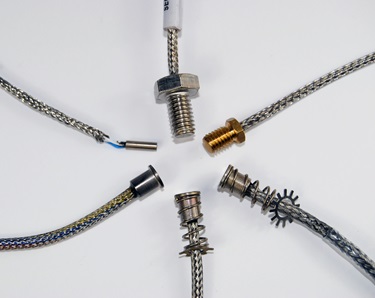 has been building sensors for over 60 years, and we have a reputation for providing solutions that are accurate and absolutely reliable. Often times these sensors are quite large, like the stator sticks that monitor the coil windings of a power station generator, sometimes reaching twenty feet in length. However, we also specialize in small form-factor sensors.
There's a lot to like about small-scale sensors. A lower mass means faster response time. You can also fit them into smaller spaces, and that ultimately helps you reduce the size and expense of the final product. For instance, more and more medical devices are moving towards benchtop or hand-held devices for point-of-care, and that means circuits and sensors all have to get smaller to accommodate a compact form factor. In the world of medical testing, scaling down doesn't just mean a space savings. In many cases, using faster-responding sensors also results in faster performance, which means tests can be run in a shorter amount of time.
Of course, "small size" can mean a number of things. The platinum RTDs that go into our miniature sensors are compact enough to be potted inside our Style-D cases, which are only 0.3"/7.6mm long by 0.08"/2mm in diameter–Minco pioneered these (now-standard) Style-D sensors. In addition to our miniature sensors, we also build high quality flat sensors. Our Thermal-Ribbon™ sensors are less than 0.04"/1mm thick, allowing them to fit on low clearance surfaces. These sensors can be constructed out of polyimide, silicone rubber, and Mylar, and may be installed non-invasively to sense the surface temperature of an object. Because of their sturdy construction, Thermal-Ribbon sensors can even be used in extreme environments like aerospace or fluid immersion.
While smaller components offer a lot of promise, engineers encounter significant challenges when designing with them. Smaller profiles increase the potential for shorted electrical connections as components and traces come into contact with other conductive materials. Minco has extensive experience in dealing with this complication. We employ a variety of insulating materials to help balance the electrical insulation requirements with the size and thermal performance needs of each application. We also select materials that provide strong seals and bonds for maximum lead pull strength in small design configurations.
In addition to knowing the right materials to use, one of Minco's most unique capabilities in manufacturing for small-scale applications is our ability to integrate sensors, heaters, instruments and flex circuits into a single, unique component that fits perfectly into any system. Integrated components  often save money and space, are easier to install, and work together more efficiently than discrete components.
Contact us to learn more about how we can help with your small-scale application.