By Minco Staff
Safety and quality are critical in virtually all industries,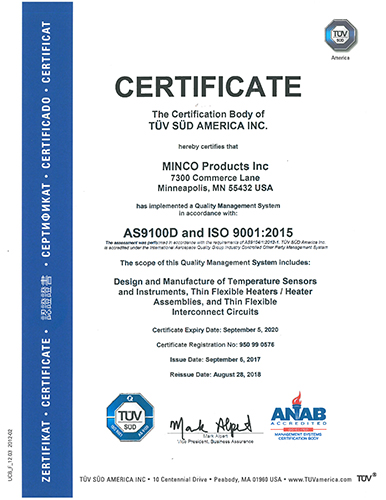 but particularly so when lives are at stake, such as in the aerospace industry. Minco has made a major commitment to the aerospace industry and supplies components for a variety of applications in both air and space. Minco heaters go into floor heating and deicing systems and find a place in numerous satellites and even the International Space Station. Minco's sensors are found in engine monitoring and air data systems, and our flex circuits are a leading choice for avionics and flight control systems. Put simply, airplanes and satellites are packed with sensors and other instruments that cannot be allowed to fail, and the certifications that govern their manufacture are appropriately stringent.
Recently Minco underwent quality training and auditing to update our ISO9001:2015 and AS9100D certifications and received our updated certificate from TÜV SÜD America.
The ISO 9001:2015 standard addresses manufacturing in a broad range of industries, and many of those industries, in turn, have developed standards specific to their own needs. AS9100 is the standard for the aerospace industry, and it is periodically updated to meet evolving needs and expectations in the industry. As of September 14 of 2018, suppliers to the aerospace industry will have to be certified to the new D release of the standard to maintain their AS9100 certification, and Minco has passed the rigorous audit required for that updated certification.
The D version of AS9100 was released in 2016, and compliance with the new standard to maintain AS91000 certification becomes mandatory in September of 2018. Keeping up with changes to the standard helps ensure the safety of aerospace components and the systems in which they are installed. Providers of aerospace components don't necessarily have to be certified to provide aerospace components, but lack of certification forces component buyers to conduct rigorous, time-consuming, costly audits to ensure the reliability of the supplier's products.
Changes to the AS9100 in the new D-standard impact the degree of management involvement in product design and production. They affect the processes by which components are manufactured. They affect the implementation and monitoring of training and the way work is defined, documented, performed, and managed. And they enhance the overall quality, safety, and reliability of components for critical aerospace products and applications. Minco will continue to maintain compliance with the evolving AS9100 standard and with ISO 9001 to simplify product selection and maintain customer confidence in our products in all the industries we serve.
For more information, see a full list of our certifications or learn more about the industries we serve.