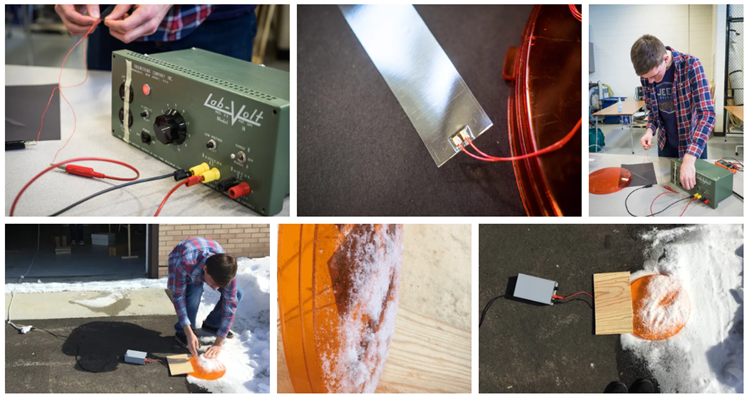 By John Baichtal
Earlier this year, Minco was approached by Edina High School students looking for help with a project. The students were participating in their school's Project Lead the Way (PLTW) engineering program, a series of semester-long classes that introduce students to engineering principles and expose them to different areas of engineering—biomedical, aerospace, civil, and so on. The final course, "Engineering Design and Development" puts students together in teams to research and engineer real-world problems.
Seniors Alex Artola, Mia Coma, Precious Ayelomi, and Ethan Kopieki heard that the Minnesota Department of Transportation (MNDOT) was having problems with their new traffic signals – they were icing up because the stoplight LEDs didn't emit enough heat to keep the lenses defrosted during winter storms. The team came up with the idea of using flexible heaters to warm the lenses. However, the challenge presented itself: how could they prototype a traffic signal to help them come with a solution?
The resourceful students talked MNDOT into loaning them a working traffic signal, then tested out a number of heating elements to try to melt the snow without damaging the signal's plastic lens. Not finding the right element, the students reached out to Minco and our Thermal Solutions department donated a number of samples, including one of our Thermal-Clear™ line of transparent heaters. Thermal-Clear heaters consist of a pair of optical grade polyester sheets sandwiching a micro-thin wire heating element. The result is a transparent heater able to defog windows and maintain LCD displays at their optimal operating temperature — the perfect solution to keep traffic signals free of ice and snow.
Minco was happy to help this ambitious team of future engineers with their project, and we wish them all the luck in their future studies.
Photos used with permission.