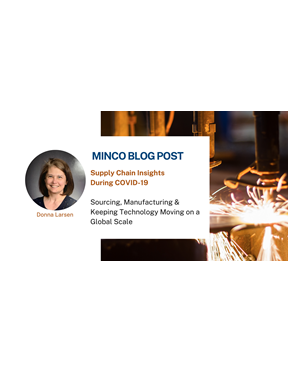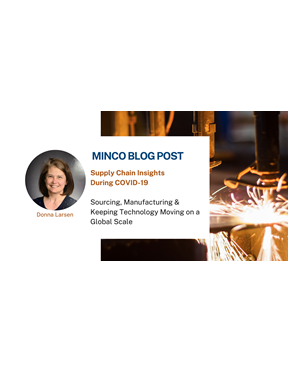 By Minco Staff
The rapid spread of COVID-19 has created unavoidable challenges for nearly every industry—halting supply chains and forcing companies to modify workflows.
As a global company, Minco gained valuable experience in the early stages of the pandemic. The company proactively identified potential supply chain challenges early this year—and acted quickly to prepare alternative vendor solutions to ensure uninterrupted production of critical components our customers require.
"When it comes to predicting what will happen next, we're leveraging a range of analytics tools to identify where customer deliveries might be impacted," said Donna Larsen, Supply Chain Leader at Minco. "Our buyers are in daily or weekly contact with suppliers to monitor capacity. We've also introduced tools to help identify affected customer networks. Those insights are allowing us to react quickly as unexpected production or transportation challenges arise."
As an essential business in the state of Minnesota, Minco plays an important role in the COVID-19 healthcare supply chain. Minco heaters, temperature sensors and flex circuits are used to combat coronavirus and treat patients on the frontline.
Our primary supply chain objective remains focused on protecting people. We're taking careful measures to help protect employees and business partners who make everything Minco has accomplished during this crisis possible. It's imperative to create a safe working environment by ensuring that everyone practices safe distancing and has access to gloves, masks, hand wipes and hand sanitizer.
We know our customers are facing similar needs and we want to help. Minco experts are ready to help customers navigate their production challenges. Our team of experienced engineers, designers, and manufacturers are available to help reduce the burden on your organization's internal resources.
Contact Minco today to see how we can serve as an extension of your team. Or, to learn more about the steps we are taking to maximize production, protect employees and minimize service disruptions, contact our customer service team at CustServ@Minco.com or 763.571.3121.