Minco level sensors are suitable for point detection in conductive fluids. The sensors provide a voltage output that changes if fluid is present or absent. The sensors feature a connector for easy integration into user systems and can be used up to 185°F (85°C).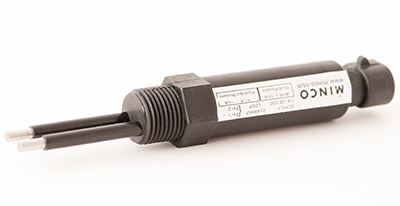 MINCO OFFERS A VARIETY OF level sensor applications:
Need help building the right part?
Build a part number according to your specifications.
Looking for a customized sensing solution?
Half of the sensors we produce are custom-engineered designs developed for challenging applications. Our Engineers are ready to help.
Interested in a standard part?
We're here to help you find exactly what you need.
ALL TEMPERATURE SENSOR SOLUTIONS