Miniature sensors can be installed in or beneath the babbitt layer of bearing shoes of rotating equipment to monitor metal temperature and give early warning of oil film breakdown
Minneapolis, August 2020—Minco Products Inc., a global provider of thermal solutions, flex circuits, and temperature sensing and control solutions, launched the S7 and TC7, a new line of miniature bearing embedment temperature sensors.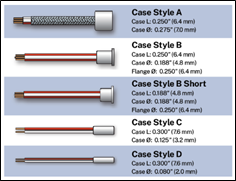 These sensors commonly monitor the metal temperature of bearings in rotating equipment — the most reliable indicator of bearing condition — to give early warning of oil film breakdown before costly failures occur. Moreover, the S7 and TC7 sensor leads can be configured with either stainless steel feedthrough tubes or elastomer filled cables to block oil from wicking out of the machine housing along the lead wires.
"Our S7 and TC7 sensors are tri-certified by multiple agencies, including IECEx, ATEX and North American (CSA US and CSA Canada) for use in hazardous areas. This means our customers can feel confident they are covered under many potential certification requirements with one sensor. Using a single, highly capable component like this can increase flexibility, reduce inventory and improve engineering efficiencies," says Darrell Hyde, Product Marketing Manager at Minco. "These sensors can be mounted either by spring loading or potting into the bearing shoes which are later installed in a variety of equipment, including motors, generators, gear boxes, pumps and compressors."
Additional features:
Metal casing and a variety of lead wire and cable options to withstand rough handling and harsh environments
Five case styles/sizes allow for different installation needs
Available with a variety of sensing elements including 100-ohm and 1000-ohm platinum RTDs, 100-ohm and 120-ohm nickel RTDs, plus Type E, J, K or T thermocouples
Minco has been a leading supplier of temperature sensors for over 60 years with an unwavering focus on exceptional product quality. The engineer-driven company has designed thousands of standard and custom sensing packages to seamlessly operate in a wide range of applications.
To learn more about the SC7 or TC7 sensors, their certifications or review their spec sheet, visit www.minco.com.
About Minco – Minco Products, Inc., delivers comprehensive engineered solutions for Medical, Defense, Aerospace, Power Generation, and other high-reliability applications. Minco couples advanced product technologies, expert design and engineering capabilities, and a clear understanding of customer requirements to deliver unmatched quality, reliability, and performance in a variety of applications all around the world. For more information, visit www.minco.com and follow on Twitter, Facebook and LinkedIn.