By John Baichtal
If you need a sensor,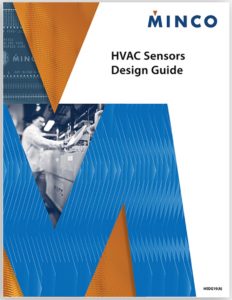 you need to download Minco's HVAC Design Guide, newly released for 2019. It's the ultimate resource for selecting and accessorizing the perfect sensor for your HVAC application.
The Design Guide begins with a dozen pages that lead the reader through the process of choosing the type of sensor. The Guide addresses such topics as, selecting the right element for your application and whether you should select a 2, 3, or 4-wire RTD or go with a thermocouple or thermistor. The section concludes with some Frequently Asked Questions we've encountered.
The next section profiles the Guide's sensors, ranging from averaging sensors and outside air sensors, to an assortment of bolt-on, plug-in, and tab/ribbon temperature sensors. Minco offers a wide variety of RTDs and temperature probes for all HVAC-related applications. We also offer a variety of humidity sensors, including sensor/transmitter assemblies, hazardous area sensors, as well as intrinsically safe humidity sensors.
Next, the Guide describes the controllers and transmitters we recommend for HVAC applications, beginning with the CT325, a simple-to-configure and inexpensive but accurate and reliable temperature controller. For applications calling for a digital readout local to the sensor, we recommend the TI350 Loop-Powered Indicator. We also feature a pair of 4 to 20 mA transmitters, including our Miniature Temptran RTD Transmitter and the TT508/TT518 Programmable Transmitter, both of which convert RTDs' readings to current for long-distance transmission.
Finally, the Guide offers accessories along with sensors and transmitters, including fluid immersion fittings, thermowells, connection heads, and extension wire. Visit our Product Guides page on Minco.,com to download the 2019 HVAC Design Guide or find one of our other publications detailing sensors for power generation, rotating machinery, aerospace, medical or semicon applications.