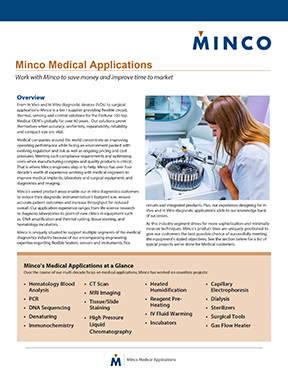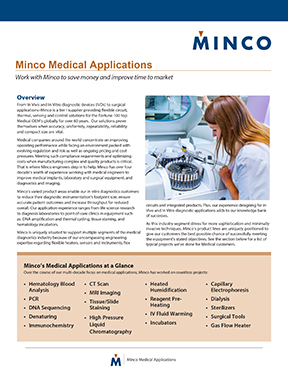 By John Baichtal
Minco's heaters, sensors, and flex circuits are designed for critical applications where failure would endanger lives or be costly. In the field of medical analysis, Minco's components have become the de facto standard for blood analysis, PCR, DNA sequencing, and immunochemistry. Our integrated solutions prove themselves when accuracy, uniformity, repeatability, reliability, and compact size are vital.
Minco has been in business for over 60 years and this extensive experience can be seen in the value we bring our customers. Our ability to integrate flex circuits with sensors, heaters, and control solutions is unmatched in the industry, and our robust New Product Introduction process has been fine-tuned to launch new projects efficiently and effectively. Finally, our Engineer-to-Engineer (E2E) initiative makes Minco experts available to consult early in a project, enabling customers work together with Minco to design the best solution possible.
To learn more about Minco's medical applications, download our datasheet today.