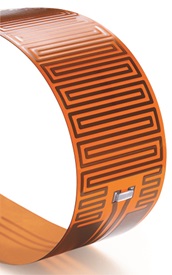 In volatile thermal environments — like deep outer space — you can't afford to have critical systems fail. It's in these cannot-fail situations where our proven design expertise shines through best. From powerful heaters designed to prevent satellites from freezing billions of miles from Earth, to precise temperature control in medical devices, our team has the experience to bring your design ideas to life. Minco flexible heaters can introduce new design versatility to creatively solve a variety of thermal management challenges — from more consistent environment stabilization to faster thermal cycling.
MEET YOUR APPLICATION NEEDS
We offer a wide range of standard thermal solution parts for fast delivery in addition to engineered custom parts for any application.
Already know your desired temp range, max size or max resistance density?
Our quick-reference heater selection chart can help you settle on the materials best for your application.
OVERCOME ANY DESIGN CHALLENGE
PROVEN EXPERTISE
For more than 60 years, Minco has helped engineering teams design and build the mission critical devices that power high reliability industries. We know what it takes to get the job done — on time and on budget.
INTEGRATION ACROSS PRODUCT LINES
No matter the challenge, Minco engineers bring best practices from hundreds of similar engagements worldwide to help our customers plan, design and integrate the best solutions for their programs.
Ready to take the next step and explore powerful design innovation? Minco engineers are ready. Our thermal, flex circuit and sensing experts can help your team find a better way — minimizing costs, while improving overall system performance.