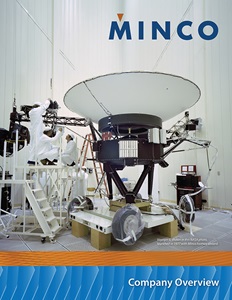 By John Baichtal
If you want to learn more about Minco, your best bet is the Company Overview that we've published, seen on the right. It covers the industries we serve and the product areas we manufacture, and even a little about Minco's 60+ year history as a component manufacturer. One of our proudest moments can be seen on the cover, NASA's Voyager program, in which Minco participated.
More practically, we offer several examples of how Minco stands apart from the competition – areas like our proprietary New Product Introduction process, which guides new projects from discovery through manufacture, or our Integrated Solutions, which combine flex circuitry with heaters and electronic components. We also talk about our Engineer-to-Engineer philosophy, which aims to get our engineers talking to yours as early as possible.
Download the brochure from our Product Guides folder or contact us for a printed version.